There are new fields on the User status page of the user profile to support the new BasicMed rule that went into effect 5/1/2017 for aviation. This enhancement also incorporates Sport Pilot rules. See below for a screen print of these fields. Changing the 'Medical Type' changes which fields are visible since the medical type determines which dates should be tracked.
Notice that these dates are the dates of the actual medical or exam. The expiration is calculated by the system based on the rules and the birth date of the pilot (from the Pilot/Personal page)*. If the pilot is under 40, be sure to enter their birth date to get the correct expiration. The checkbox has a link to more information about that medical type and the requirements. If users are suspended from scheduling for expiration of these dates, any expired dates will have a red label as well as an unchecked box for meeting requirements.
Updates
July 2017 - The ability to enter the FAA Medical date or expiration was added to accommodate special issuance FAA Medicals, which have a specified expiration. Drivers license expiration was also added for the Basic Med fields. And, a copy of the birth date was added to this section.
User modification of new medical dates
Only sysops can modify the new medical dates unless the users are given access in the Group Options screen (Admin >> System Admin >> Group Options). Check the box outlined in the image below to authorize.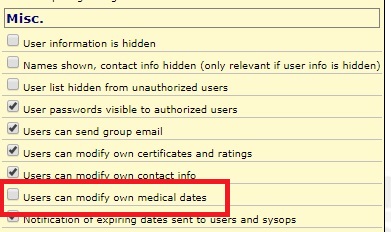 Enforcement and reminders
To turn on enforcement or reminders of the new medical dates, to go the User Date Limits page (under System Admin). (If it does not load, click the refresh a couple times. Not sure if this issue occurs on other computers.) If you would like to abandon any old medical date fields, you should un-check the remind or suspend fields and clear the name of the field on this same page. This will remove the field from the user status page and stop using this field for reminders and suspension.

Aircraft Eligibility
The aircraft information page also has new fields to support the BasicMed rule since there are rules about what types of aircraft can be used by users flying under BasicMed. If you check the box to 'suspend users at expiration' for the new medical fields, be sure to also check which aircraft are eligible for BasicMed and which are eligible for Sport Pilot since these fields will be checked in the scheduling rule if flying under that medical type.

Reporting
A new screen shows any expired medical dates as well as any other expired dates. For more information, see the following article:
http://support.timesync.com/hc/en-us/articles/115002417506?flash_digest=265dc869f3a1256afcb64c4da7e3cce919d12954