The system can be configured so that users can change various information in their user profile. See below for fields and configuration screens.
Contact Info - Group Options screen (Admin >> System Admin >> Group Options)
Certificates and Ratings - Group Options screen
Club-defined user fields (text and numeric) - User/Res Options (under Admin >> System Admin)
Club-defined user date fields - User Date Limits (under Admin >> System Admin)
Signing up a new member?
If you want a new user to enter their own information, you can give them the user ID and password for a spare. Spares can be listed from the User List (Group Info >> User List) by selecting 'Spare Users' and clicking Refresh. Select an available spare from the list. If none are listed, you will see a button for adding more spares. Once the spare user is selected, go to the password tab to enter a generic password. Passwords are not visible, so be sure to record what you enter.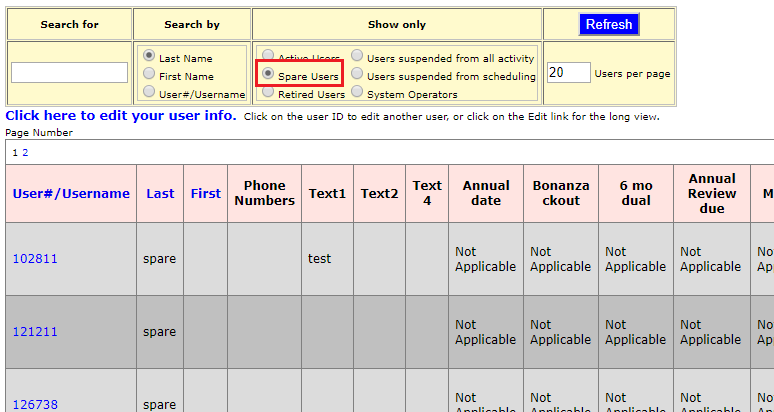 Users will be redirected upon login to a page where they can enter their name and contact information as seen in the image below. This assumes that you have set your Group Options (Admin >> System Admin >> Group Options) so that users can modify their own contact information.