The preflight screen gives you visibility of aircraft status, pilot status of the scheduled user, and instructor status all in one place.
The image below shows an example of the preflight screen. The screen is configurable based on which modules you are using. The section visibility is as follows:
Meter worksheet and meter readings - only visible if using Online Billing
Pilot status - visible to all organizations
Aircraft status/Squawks - visible if using Squawk module
Aircraft status/Scheduled Maintenance - visible if using Schedule Maintenance module
Instructor Status - visible if scheduling instructors through our system and enforcing instructor dates
The preflight function can be a very helpful tool in both ensuring that your pilots are aware of their status and the status of the aircraft before making their flight. Even if the system enforced various rules when the schedule was made, as you know, the status may have changed in the meantime. This is helpful for safety as well as for protecting an organization from liability. The new preflight indicator on the schedule can also help a dispatcher to be aware of which flights are likely to occur if pilots are encouraged to use the preflight. If your organization would like the preflight feature turned on, please contact us. (This feature may not be in your menu.)
Preflight status is visible on the schedule page to dispatchers as an orange outline as depicted in the key. The image below shows that the schedule for Haverlock has been preflighted. This is helpful to management and users in knowing if the scheduled user plans to show for the flight.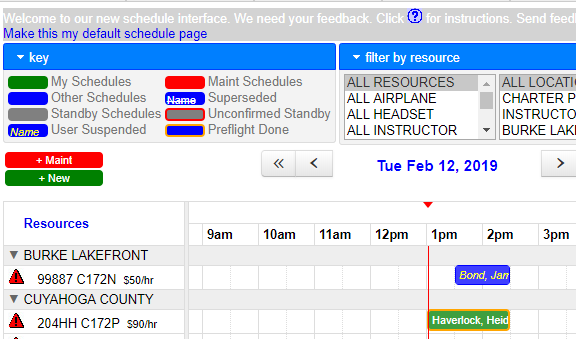 Preflights can be turned on for sysops only or for all users in the Group Options page. (Admin >> System Admin >> Group Options) These options are listed in the scheduling section as seen below. Contact Time Sync if you need to upgrade your service to include the maintenance or billing modules.