This article lists the most significant recent enhancements to Schedule Master.  At the end we also remind you of big features that have been around for awhile.  Click on the title of the area of interest to get to an article with more information.
Ride sharing enhancement to new schedule - 4/9/20
This enhancement allows the pilot to offer ride sharing by checking the option when making a schedule and entering the details.  Ride sharing will be indicated on the schedule with a special outline indicated in the key.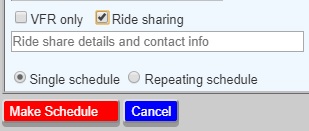 User-specific report authorization - 4/6/20
This enhancement allows an organization to give specific non-sysops access to specific reports.
New Rental History/Currency Page - 12/20/19
This screen has a summary and detail view of your currency hours met.  
Links to weather - 3/28/19  

The schedule can show a link to your club's home base weather, and the preflight can show a link to your destination airport.
Did You Know We Have...
Online Billing - For invoicing rental, dues and other charges and the option of receiving electronic payments.  This allows the option of managing outstanding balances through credit limits, which can prevent additional scheduling.  
Scheduled Maintenance - For tracking and visibility of recurring maintenance, such as oil changes, Annuals, and Transponders.
Squawks - For tracking and visibility of non-recurring maintenance issues.