Management can enter, edit, validate, and download time from the Time Validation screen. To get there select Billing Admin >> Rental Time.
Any discrepancies in time (i.e. where the ending meter time from the previous entry does not match the start entry) will be displayed in red as seen in the image below. After any adjustments are made to the entries, be sure to click the 'Save' button.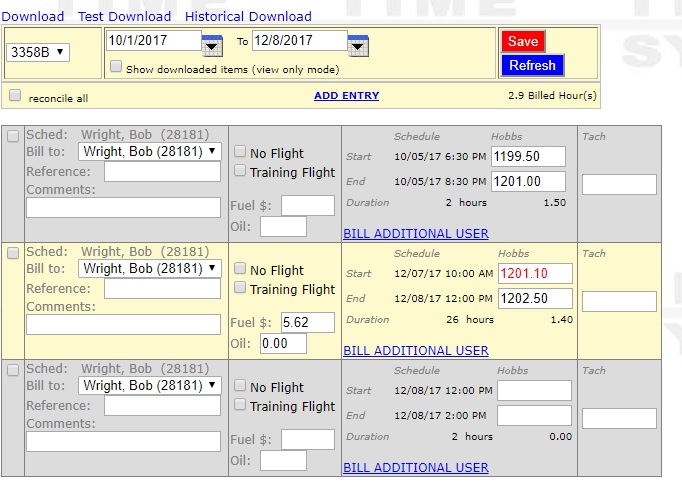 If there is a missing schedule, you can click the 'Add Entry' link to add a schedule and meter entry at the same time. Be sure to enter the correct date and time when doing this since that will determine the sort order and could affect whether or not a discrepancy (i.e. gap or overlap) is highlighted. Note: I recommend saving previous changes before clicking any links to add an entry or bill an additional user.
The checkbox on the left indicates that the entry should be locked so that the user can no longer edit and that it is ready for download. Use the top 'reconcile all' checkbox to check all boxes on the screen with a single click. Be sure to save the checkbox changes.
The links for downloading to Excel are at the top. The test download can be used multiple times. The regular download link will only allow those entries to downloaded a single time in order to avoid duplicate entries in multiple downloads. This historical download will allow you to download previously downloaded entries.