If you are a system operator or have specific dispatcher authorizations, this article will walk you through various advanced scheduling activities. Dispatchers have the following capabilities:
Creating schedules for other users.
Editing or cancelling schedules for other users.
Overlaying or overriding schedules of other users.
Creating schedules for users that conflict with other schedules for the same user within the same category resource.
Setting a schedule as rule exempt, which means that it would not be counted in the schedule limits for max hours or max schedules.
Option to create schedules that violate rules.
The above capabilities are only available when the authorized user is in dispatch mode. In dispatch mode, some rules are completely ignored, and some give warnings that have the option to confirm an override. An authorized user that is not in dispatch mode will be subject to all of the rules and will not be presented with the advanced options, such as overlay or confirming a rule override.
To get into dispatcher mode, click the 'Dispatcher Mode' checkbox just above the schedule.
When in dispatcher mode, the system will assume you are scheduling for other users. When clicking on the schedule or the +New button, the screen pictured below will pop up. Scheduling is the same at this step as for general users except that you need to specify the user for whom the schedule is being made. Also, if you want this schedule to be ignored in the schedule limits, check the 'Rule exempt' checkbox.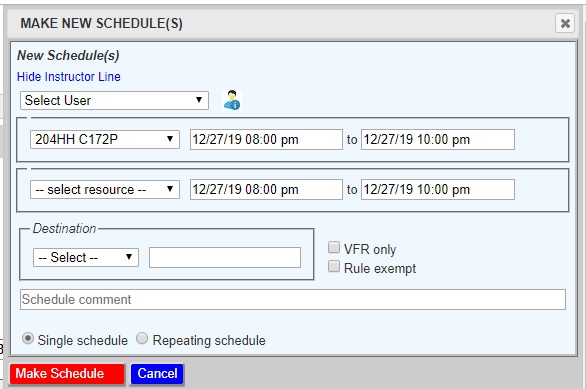 If there are any issues with the user that you are scheduling, the issues may be listed for your confirmation (if your organization is configured for confirmation). See image below for example of currency and date warnings. To continue with the schedule, check the checkbox and then click 'Make Schedule.'
Next, the system will check for conflicting schedules for the resource and timeframe selected. If it finds any, the conflicts will be listed along with the options available. See image below. For more information on various options, hover over the option to see a description of the option. For example, the hover will explain that the 'Overlay' option retains conflicting schedules and moves them to the 'Superceded' row. And, it will state that the 'Override' option cancels existing schedules. After selecting one of the options, click 'Make Schedule' to complete the schedule. A message will be displayed that confirms the schedule was made, and the schedule will be refreshed to show the update.