Upon completion of this lesson, you will be able to enter your billing meter times as well as receipts (if accepted by your organization).
Once your scheduled flight has concluded, you need to complete the Postlfight dispatch to prepare for billing purposes. Please follow the steps below in order to create a post-flight dispatch.
1. From Schedule Master default page, go to "My Account" >> "My Postflight" .
2. Select any schedule in the OUTSTANDING POSTFLIGHTS list.
3. Complete the POSTFLIGHT DISPATCH form and click the blue "Calculate Charges" button. Your postflight dispatch form may look a little different depending on how your organization is configured. For example, if your organization does not use Scheduled Maintenance, you may only have one meter start and end to enter. And, the fields in the lower box are configurable, so the postflight for your organization may not display these fields.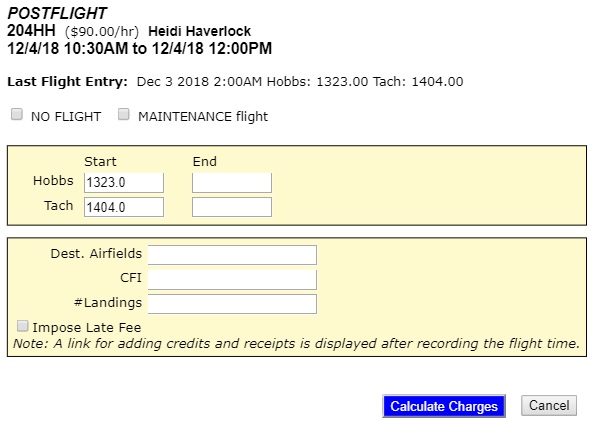 4. If there is anything unusual about the meter entries, you may be taken to a page with warnings. From there you can either click the "Edit Inputs" button to return to the meter entries page for corrections. Or, if everything looks OK, you can continue by clicking the "Calculate Charges" button. If there is nothing suspicious about your entries, the warning page will be skipped.
5. The calculated rent charges will be displayed on the next screen. This screen will also includes sales tax, if applicable. And, it will include a block time credit if block time has been purchased. (Your organization may not have block time.) If the proposed transactions look correct, click on "Save Entry." This will add the charges to your statement.

6. The next screen has a link for postflight credits. This will allow users to enter fuel receipts, gift cards, or any other credits that users are allowed to enter. (These postflight credits go to an Approvals queue where management can easily reverse them if needed.) If your organization does not allow users to enter credits, you will not see this link.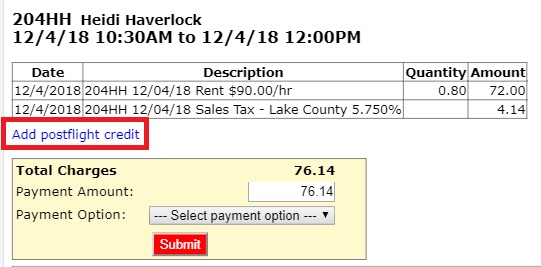 7. The postflight credit screen pictured below will allow you to upload receipt images or an image of your gift card if applicable. After clicking 'Add Credit', the credit will be added to your statement and you will be returned to the transaction list.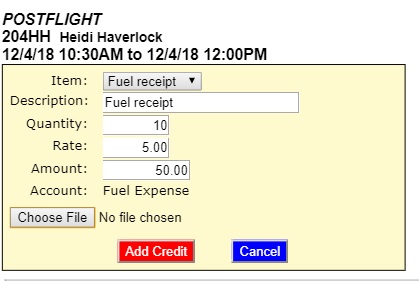 8. If you have additional credits to enter, you can click the link for each additional credit. Or, if your organization has electronic payment options, enter the payment information and submit. If it does not and you are not a sysop that has access to other payment options, there will just be a Done button that takes you to the next page.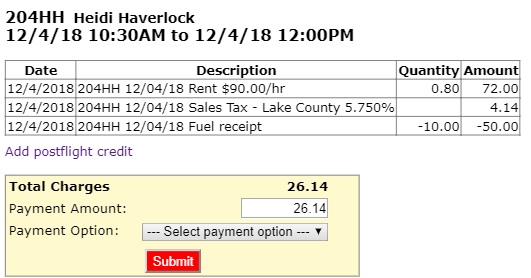 9. The final screen will show a summary of the transactions for the flight. From there you can click the link to print, click the link to enter a squawk, or use the menu to navigate elsewhere.
What if I did not fly as scheduled?
If you did not fly as scheduled, it is considered a NO FLIGHT. In that case you still need to complete the Postflight dispatch form by checking the NO FLIGHT checkbox (A) and stating the reason (B). Then click the blue "Calculate Charges" button (C) when done. Some organizations have a minimum charge for flights that are not cancelled before the start of the flight. If this is the case, you may still be taken through the payment dialog.
Zoom
What if my flight was for maintenance?
If you flew the plane for maintenance purposes and were authorized to charge the flight to maintenance, you should still fill out the postflight form and check the maintenance checkbox. There are no charges for maintenance flights.
Continue by clicking the red "Finish" button