Schedule Master has several features to give your customers easy access to scheduling and to support maximum utilization of your resources.
Below is a screen shot of our schedule interface. Several features are visible on this image:
You may notice that the schedules can be filtered to see the resources you are most interested in. The filter groups also include model, N-Number, etc. Your filter and view preferences can be saved as the default, and the filters can be hidden for a cleaner look.
There are many available views. Besides the 1 day, 2 day, and 7 day agenda, several other views can be selected from the dropdown.
Resource status is indicated by the color of the hazard symbol to the left of the resource. Clicking on the symbol will open a resource status screen.
User status is also depicted. A user with a suspended status (e.g. from an expired date) is indicated by the yellow italics font. These users either scheduled before the status was suspended, or a system operator scheduled for them. If a user with suspended dates schedules the aircraft with an instructor (i.e. lesson scheduling), the system will allow the schedule and show a valid status (if lesson scheduling is turned on). Various expiration dates, checkouts, and currency can prevent a user from scheduling if the organization is configured to do so.
The Bond schedule (starting at 1pm) has been preflighted. This indicates that the user reviewed the aircraft and pilot status shortly before the flight and has acknowledged that he is planning to use the schedule by saving it. This status is indicated by the orange outline.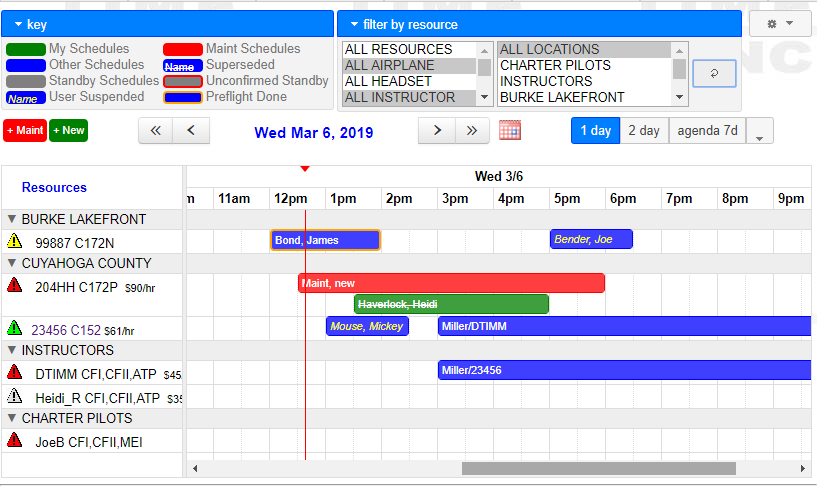 The following are a list of features, most optional, related to our scheduling application. These features can be turned on or off by your organization's administrators.


Schedule Access - The schedule can be viewed and modified via the internet or mobile phone.


Schedule Limits - An organization can define scheduling parameters for maximum length of any one schedule, number of schedules, cumulative total time as well as a future limit. We can also write custom rules to support any organization specific rules you may have.


Authorizations/Checkouts/Currency - Scheduling can be controlled by user authorizations by Category/Class/Model/or Specific Resource, by model checkouts, by aircraft-specific currency requirements, or by some combination of them.


Pilot Date Tracking - The system stores pilot data for BFRs, medicals, dues, insurance, and up to 4 club-defined dates. The club can configure the system for reminders of these dates or automatic suspension at expiration.


Instructor Resources & Other - In addition to the scheduling of aircraft, our system can be used to schedule instructors, Simulators, extra headsets, rooms, test seats, or whatever resources your organizations needs to schedule.
Lesson Scheduling - With lesson scheduling, users that have expired dates, are not current or not checked out in the aircraft can schedule a lesson only if scheduling an instructor at the same time. This allows a club to enforce the restrictions without extra work for administrators to schedule for students.
Standby Scheduling - A user can make a standby schedule for a resource that is already booked. If the primary schedule is cancelled, the user with the standby will be notified and have the first opportunity to confirm a schedule for that period of time. If the user with the standby schedule does not confirm, the resource will become available to other users.


Notification of Availability - A user can make a request to be notified (via email, pager, or fax) if a particular block of time becomes available.


Schedule Reminders - Users can request reminders (email, pager, or fax) of schedules they have that are coming up.


Schedule Downloads - Schedules can be downloaded into Excel or other formats from our list view. This allows an organization to do their own analysis of the schedule data. An API is also available for more advanced integration.


Various View Options - The schedule can be viewed in a number of calendar and list formats. It can also be filtered down to the resources a particular user is interested in. These schedule view preferences can be saved in a user's profile so that the schedule defaults to each user's preferences.


Repeat Scheduling - A user can schedule a resource for a block of time and have that schedule repeat every week for the designated days of the week.


Training/Help - Our system has a database of articles to answer questions and help with technical issues.