If you have not found a good reason to switch from the original schedule to the current version, here is a list of features that are specific to the new interface. This article focuses on the differences between the new and original schedule interface. For an article focused on how to use the new schedule, click here.
Now indicator - The red line on the schedule indicates the current time.
Schedule editing - Schedules can be dragged between resources or time slots. And, the time can be shortened or extended by dragging the ends.
Link to weather - The schedule can show a link to your club's home base weather.
Flexible layout - This interface will adjust to the size and orientation of your screen - even if you change the orientation of a device after loading. It will also hide some non-essential items when using on the smallest screens. This makes it work for large desktop screens as well as small phones.
New and better view options

New view options include a 1-day agenda and 7-day agenda as seen below and a calendar month view. These views are nice for a small number of resources. If you have a large club, filtering down to a few resources that you are interested in can make these views work for you.
Organizations with multiple locations can collapse resource rows by location in timeline views.
All views show every schedule within the view. This was not the case for multi-day timeline views in the original schedule due to design constraints.
Possible custom views - The tool used to create the views in this interface makes it easy to customize views by specifying things like the schedule type (timeline, agenda, list, calendar), time span, and slot interval. Contact Time Sync if your club has a need for a view that is not currently available.
Views can be prioritized or hidden in 'other schedule pref' within the gear dropdown. The top view will be the default. The next 2 will be on the buttons. The rest are listed in the dropdown.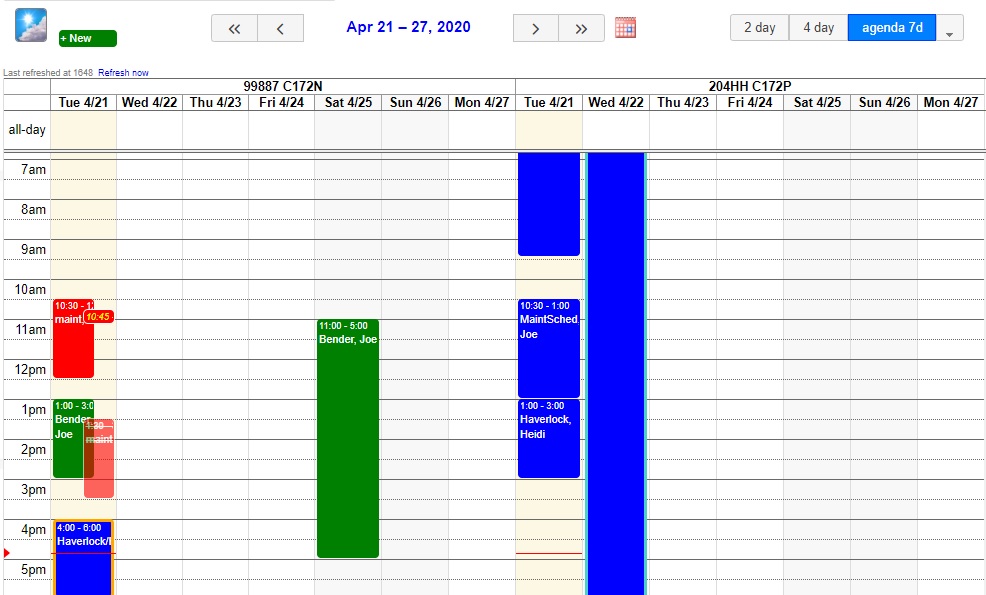 Preflight indicator - Dispatchers and other users can see which pilots have 'checked in' by reviewing the preflight information (e.g. resource status, pilot status). This helps users understand whether or not someone will show for their schedule. As the key below indicates, schedules that have been preflighted are outlined in orange.
Ride sharing - Users can offer ride sharing to other members of their club when making a schedule. This will be indicated with a turquoise outline as seen in the key below.

If you don't agree that the new schedule interface is better, please send feedback about your issues with the new interface to support@timesync.com, and we will look into addressing your concerns.