Block time functionality will allow you to invoice prepaid block time, which will set up a separate block time account that bills at a discounted rate. The postflight will check for a block account. If available, the time will be invoiced at the discounted rate, and the prepaid block credit will be applied.
To set up:
Create an account and an item for block time. Be sure to set the item to taxable if rent is taxable for your organization. You might want to make the account a liability account for prepaid rent since this is not income - it is time owed to the customer.
Contact Time Sync to set this item as your block time item.
Contact Time Sync to set up one or more price levels for your block rates.
Set rates for each aircraft and price level in the resource rates screen as you normally would for other price levels.
Invoicing block time
Invoice block time through the normal invoice screen. If you select the block time item, the screen will display a list of price levels and require that you select an aircraft. (See image below.) The rate and amount will be based on the rate entered into the resource rates screen. Saving the invoice will create a block account for use in the postflight. If your rent is taxable, it should be charged at the time of the block time purchase and not during the postflight.

Postflight with block time
When doing the postflight, the system will check for a block time balance for that user and resource. If the quantity is big enough to cover the number of hours of the flight, it will use the block rate for the postflight and it will add a matching credit for the prepaid flight time. (See image below.)

Notes:
If there is not enough block time to cover the postflight, you can enter a meter that will use up the remaining block balance and then enter a second postflight (unscheduled) for the remaining time.
The block time will not be used for any postflight that is before the purchase of the block time. If you wish to override this behavior, you can set the transaction date of the block time purchase to the necessary date.
Reports
There is a block summary report and a detail report in the 'Other Reports' menu. See below for report list.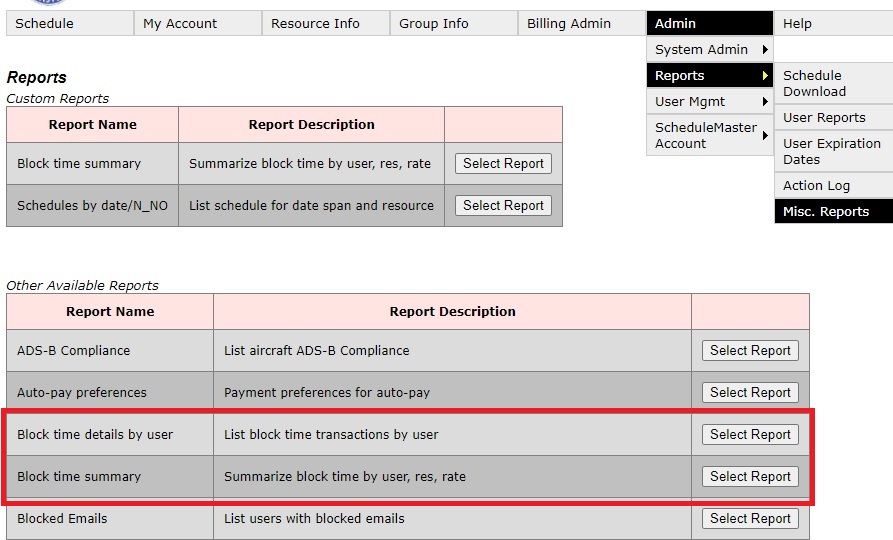 Below is an example of the summary report. It has the total remaining hours by user and resource.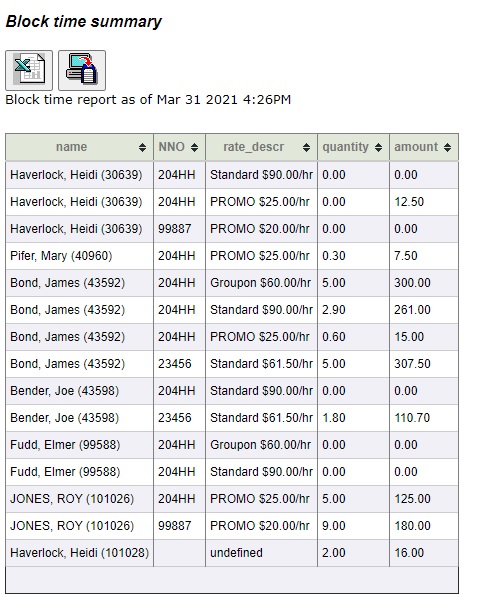 Below has the block time details for a particular user. The positive values show the purchase of block time by rate. The negative values are from the postflight using the block time.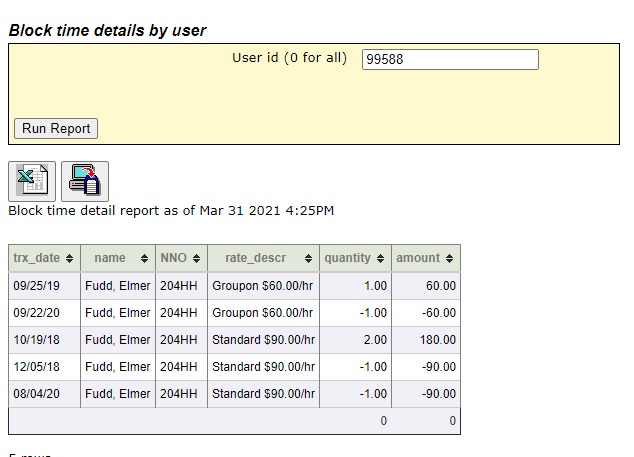 Any user that has block time transactions can go to Group Info >> Reports and find a block time report that is limited to the transactions associated with their account. See below for an example.