The maintenance meter for an aircraft can be entered from various screens.
If you are using Online Billing or Time Management, the maintenance meter fields may be shown on the postflight (depending on how your organization has this configured). If a resource is using the same meter for both billing and maintenance, only one set of meter fields will be displayed. The screen print below is a postflight screen for a club using Online Billing with an example aircraft using Hobbs for billing and Tach for maintenance.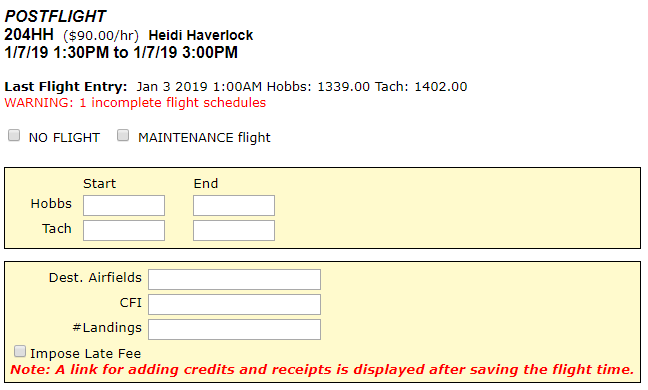 If your organization is not using Online Billing or if you are not having users enter the maintenance time with their postflight, the time can be entered by management through a separate screen. The screen below allows you to enter or edit maintenance time against a schedule or to add a new date/time for the entry. Be sure to click the Add if making an entry for a new date/time or the Save button if updating the meter for an existing schedule. Notice that you can either list all of the last schedules for each aircraft or you can list the schedules by date span.