This article will walk you through the steps needed to configure Scheduled Maintenance with links to more detailed articles with additional information and print screens.
1. Specify the aircraft meter. To do this, you will need to edit each aircraft. At the bottom of the screen is the Scheduled Maintenance section (pictured below), where you can select Hobbs or Tach for the maintenance meter and you can enter the beginning meter time.

2. If you want users to be able to request notifications for various maintenance events (e.g. Maintenance Due and Maintenance Complete notifications), you should verify that users are authorized to do so in the user authorization section of the user profile. If your default user is authorized for recurring notifications, then any users created after that will also have that authorization. Let us know if you need a bulk update done.

3. If needed, set up any special user authorizations for those involved in maintaining Scheduled Maintenance data. A sysop already has access to update all data. If an administrative user is not a sysop, you can turn on 'Scheduled Maintenance admin' in the user authorizations tab to give access to update things like maintenance items that are not specific to a resource. For access to update maintenance tasks specific to a resource for an owner or crew chief, use the resource sysop authorization.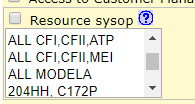 4. Set up master maintenance items. See the following article for instructions: http://support.timesync.com/entries/20498116-How-do-I-add-new-scheduled-maintenance-types-e-g-oil-change-inspections-